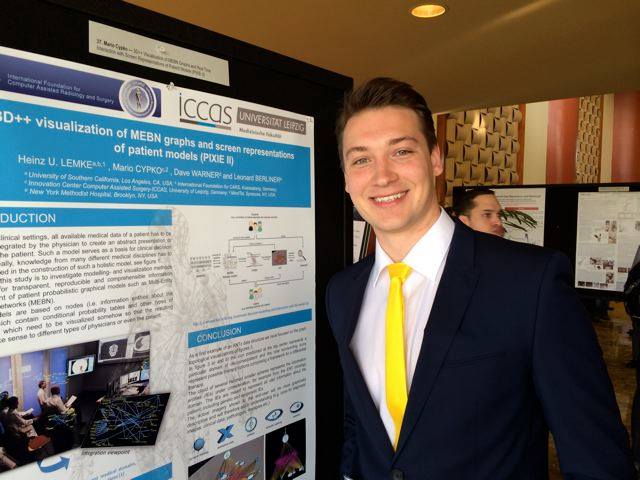 In early March 2014, Mario Cypko's research trip to the USA ended sucessfully. Major stations of the journey were the SPIE Medical Imaging Conference, the NextMed / MMVR21 Conference and the University of Southern California (USC), Los Angeles.
The young scientist from the DPM group scored again with a poster contribution and won the poster prize of the NextMed / MMVR Conference 2014 for his poster entitled "3D++ visualization of MEBN graphs and screen representations of patient models (PIXIE II)". Furthermore, Cypko's presentation on "User interfaces for patient-specific treatment – decision models using MEBN" was met with great interest among the scientific colleagues at the NextMed / MMVR. The modeling and visualization of patient data with the aim of a transparent and comprehensible therapy management is a very current topic.
Cypko's research contributions prompted the Institute of Creative Technology at the USC to invite him spontaneously. Here he had the opportunity to present his project work at the Mixed Reality Lab and in return to learn about the local research projects. The Lab focuses on the development of low cost user interfaces for general use.
The trip concluded with a visit of the Institute Image Processing and Informatics Laboratory at the USC. The focus of this meeting was on the use of Multi-Entity Bayesian Networks for modeling of treatment decisions.
Both institutions welcomed a future collaboration with the ICCAS. Further talks will follow.