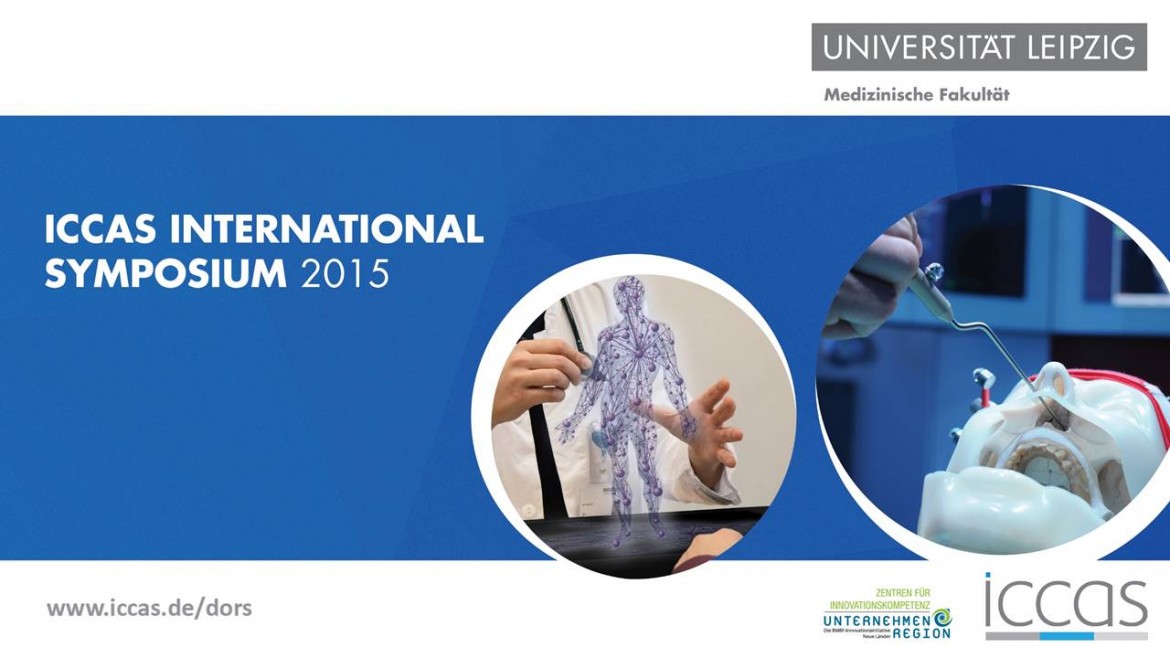 07 September 2015
On August 29, ICCAS celebrated its tenth anniversary by hosting an international symposium at Universität Leipzig's Paulinum. Attended by distinguished guests, the symposium was opened by ICCAS director Professor Andreas Melzer, who also presided over the scientific program. He thanked those attending for their joint work in advancing computer-assisted surgery.
In his review of the past decade, Professor Jürgen Meixensberger praised ICCAS's achievements and spoke about its future strategy, which will include focused collaboration with industry. Keynote speaker Professor Ron Kikinis from the Fraunhofer MEVIS Institute for Medical Image Computing then spoke about the need to introduce vendor-neutral standards for the exchange of data and information in the operating room. He stressed that because this was an area with no market for industry, the scientific community had a key role to play in this respect. And he added that processing complex medical data so that doctors can access it before, during and after surgery was a big challenge for everyone involved.
Presentations and papers by other partners followed. Professor Markus Krabbes from HTWK Leipzig University of Applied Sciences used examples to show how both HTWK and Universität Leipzig have benefited from cooperation with ICCAS in various ways for many years. Then again, the joint research project recently launched by ICCAS and the Max Planck Institute for Human Cognitive and Brain Sciences came about almost by chance. The MPI's Professor Arno Villringer explained in this regard the possible use of magnetic resonance-guided focused ultrasound (MRgFUS) on patients suffering neurological disorders.
After a snack and poster presentations, some of ICCAS's clinical partners explained their developments in computer-assisted medicine. Professor Joerg Seeburger (Heart Center Leipzig), Professor Thomas Kahn (Director of Radiology at Leipzig University Hospital) and Professor Bernhard Sattler (medical physicist specializing in nuclear medicine at Leipzig University Hospital) described the latest computer-aided therapy methods and thanked Professor Melzer for the valuable inspiration provided by his knowledge of MRgFUS. Professor Andreas Dietz, director of the ENT Department at Leipzig University Hospital and a member of the Board of ICCAS ever since it was founded, praised the excellent cooperation between ICCAS's researchers and doctors. He underlined the rapid implementation of auxiliary technology, which is now routinely used by Leipzig University Hospital's weekly tumor board. However, he emphasized that although smart technology harbored tremendous opportunities to support physicians, it cannot replace them.
ICCAS pioneer Professor Thomas Neumuth and ICCAS junior researcher Mario Cypko reported on technical research development by ICCAS. They highlighted important goals on which ICCAS is working such as surgical workflow management, situation-aware surgical assistance systems, and the Digital Patient Model.
The final paper was delivered by Professor Heinz U. Lemke, who also sits on the Board of ICCAS and is another founder member – indeed, many of ICCAS's innovations are based on his ideas. Professor Lemke is striving to introduce DICOM standards into the operating room, something that hitherto has been hampered by a lack of political will. According to Professor Lemke, standards are set to play a major role in the vendor-neutral integration of technology in the operating room, enabling both interoperability and the consistent display of information. He referred to a recent EU decision defining IHE profiles as the standard for public tenders and added that in future, industrial products would be judged by whether they were IHE-compliant. Accordingly, ICCAS's preparatory work for IHE in surgery fully reflects the prevailing trend in this sphere.
The symposium ended with a discussion between the speakers and the audience. Once again, attention was drawn to the important role of the physician. It was repeated that technical innovations are designed not to replace surgeons, but instead to help them arrive at treatment decisions in a more transparent manner based on verifiable knowledge – and hence create more confidence and reliability for both doctor and patient. During the subsequent reception held in the nearby Moritzbastei, the visitors took the opportunity to continue their discussions and look back on the past decade over a glass of sparkling wine.
[nggallery id=27]